Deprecated
: Function eregi() is deprecated in
/home/zsaio/ftp/www/POZALEKCYJNE/cutenews/show_news.php
on line
36
Deprecated
: Function eregi() is deprecated in
/home/zsaio/ftp/www/POZALEKCYJNE/cutenews/inc/shows.inc.php
on line
23
Deprecated
: Function eregi() is deprecated in
/home/zsaio/ftp/www/POZALEKCYJNE/cutenews/inc/shows.inc.php
on line
23
Deprecated
: Function eregi() is deprecated in
/home/zsaio/ftp/www/POZALEKCYJNE/cutenews/inc/shows.inc.php
on line
23
Deprecated
: Function eregi() is deprecated in
/home/zsaio/ftp/www/POZALEKCYJNE/cutenews/inc/shows.inc.php
on line
23
Deprecated
: Function eregi() is deprecated in
/home/zsaio/ftp/www/POZALEKCYJNE/cutenews/inc/shows.inc.php
on line
23
Deprecated
: Function eregi() is deprecated in
/home/zsaio/ftp/www/POZALEKCYJNE/cutenews/inc/shows.inc.php
on line
23
Deprecated
: Function eregi() is deprecated in
/home/zsaio/ftp/www/POZALEKCYJNE/cutenews/inc/shows.inc.php
on line
23
Deprecated
: Function eregi() is deprecated in
/home/zsaio/ftp/www/POZALEKCYJNE/cutenews/inc/shows.inc.php
on line
23
Deprecated
: Function eregi() is deprecated in
/home/zsaio/ftp/www/POZALEKCYJNE/cutenews/inc/shows.inc.php
on line
23
Deprecated
: Function eregi() is deprecated in
/home/zsaio/ftp/www/POZALEKCYJNE/cutenews/inc/shows.inc.php
on line
23
Deprecated
: Function eregi() is deprecated in
/home/zsaio/ftp/www/POZALEKCYJNE/cutenews/inc/shows.inc.php
on line
23
Deprecated
: Function eregi() is deprecated in
/home/zsaio/ftp/www/POZALEKCYJNE/cutenews/inc/shows.inc.php
on line
23
Deprecated
: Function eregi() is deprecated in
/home/zsaio/ftp/www/POZALEKCYJNE/cutenews/inc/shows.inc.php
on line
23
Deprecated
: Function eregi() is deprecated in
/home/zsaio/ftp/www/POZALEKCYJNE/cutenews/inc/shows.inc.php
on line
23
Deprecated
: Function eregi() is deprecated in
/home/zsaio/ftp/www/POZALEKCYJNE/cutenews/inc/shows.inc.php
on line
23
Deprecated
: Function eregi() is deprecated in
/home/zsaio/ftp/www/POZALEKCYJNE/cutenews/inc/shows.inc.php
on line
23
Deprecated
: Function eregi() is deprecated in
/home/zsaio/ftp/www/POZALEKCYJNE/cutenews/inc/shows.inc.php
on line
23
Deprecated
: Function eregi() is deprecated in
/home/zsaio/ftp/www/POZALEKCYJNE/cutenews/inc/shows.inc.php
on line
23
Deprecated
: Function eregi() is deprecated in
/home/zsaio/ftp/www/POZALEKCYJNE/cutenews/inc/shows.inc.php
on line
23
Deprecated
: Function eregi() is deprecated in
/home/zsaio/ftp/www/POZALEKCYJNE/cutenews/inc/shows.inc.php
on line
23
Deprecated
: Function eregi() is deprecated in
/home/zsaio/ftp/www/POZALEKCYJNE/cutenews/inc/shows.inc.php
on line
23
Deprecated
: Function eregi() is deprecated in
/home/zsaio/ftp/www/POZALEKCYJNE/cutenews/inc/shows.inc.php
on line
23
Deprecated
: Function eregi() is deprecated in
/home/zsaio/ftp/www/POZALEKCYJNE/cutenews/inc/shows.inc.php
on line
23
Deprecated
: Function eregi() is deprecated in
/home/zsaio/ftp/www/POZALEKCYJNE/cutenews/inc/shows.inc.php
on line
23
Deprecated
: Function eregi() is deprecated in
/home/zsaio/ftp/www/POZALEKCYJNE/cutenews/inc/shows.inc.php
on line
23
Deprecated
: Function eregi() is deprecated in
/home/zsaio/ftp/www/POZALEKCYJNE/cutenews/inc/shows.inc.php
on line
23
Szkółka jeździecka

Już od ok. 6-ciu lat uczniowie naszej szkoły mogą brać udział w zajęciach Szkółki Jeździeckiej, której zajęcia odbywają się na terenie Stada Ogierów w Starogardzie Gdańskim. Uczniowie dojeżdżają samodzielnie na zajęcia.
Adepci sztuki jeździeckiej spotykają się w Stadzie 3 razy w tygodniu: w środę i wtorek od 15.30 do 18.30 i soboty od 9.30 do 15.30. Koni do prowadzenia zajęć użycza nam Szkółka Jeździecka przy Klubie Jeździeckim "Stado Ogierów". Są to konie prezentujące duże spektrum umiejętności i wielkości( od kuca walijskiego po konia rasy śląskiej). Uczniowie uczą się wykonywać wszelkie czynności pielęgnacyjne przy koniach i jeździć konno w stylu klasycznym. Zadanie jaki sobie postawiliśmy, to nabycie umiejętności i wiadomości pozwalających na przystąpienie do Brązowej Odznaki Jeździeckiej lub (dla osób pełnoletnich) kursu instruktora rekreacji ruchowej. Już kilku naszych absolwentów uzyskało takie uprawnienia, a co za tym idzie kolejny zawód. W ramach szkółki organizujemy kuligi i ogniska ze śpiewami i kiełbaskami. Raz do roku organizujemy również zawody jeździeckie dla naszych uczniów. Co roku podczas Dnia Otwartego szkoły - organizujemy jazdę konną w szkole. W tym roku planujemy również inne niespodzianki z udziałem jeźdźców ze szkoły.
Od kilku lat pomagamy również w prowadzeniu zajęć hipoterapii z fundacji "Pinokio" ze Starogardu Gdańskiego. Pracujemy wówczas z dziećmi z fundacji 1 lub 2 razy w tygodniu.
Osoby zainteresowane jazdą konną prosimy i bezpośredni kontakt z prowadzącym zajęcia - trenerem II klasy mgr Iwoną Paździerską.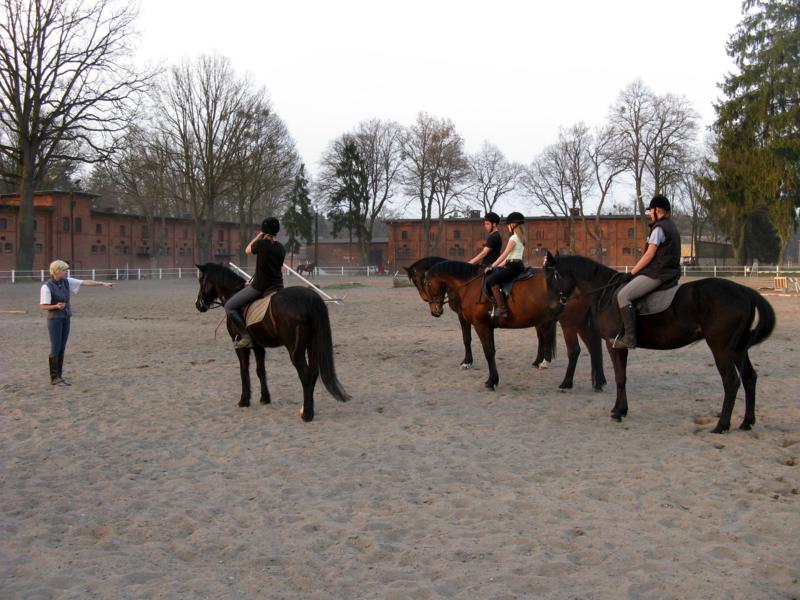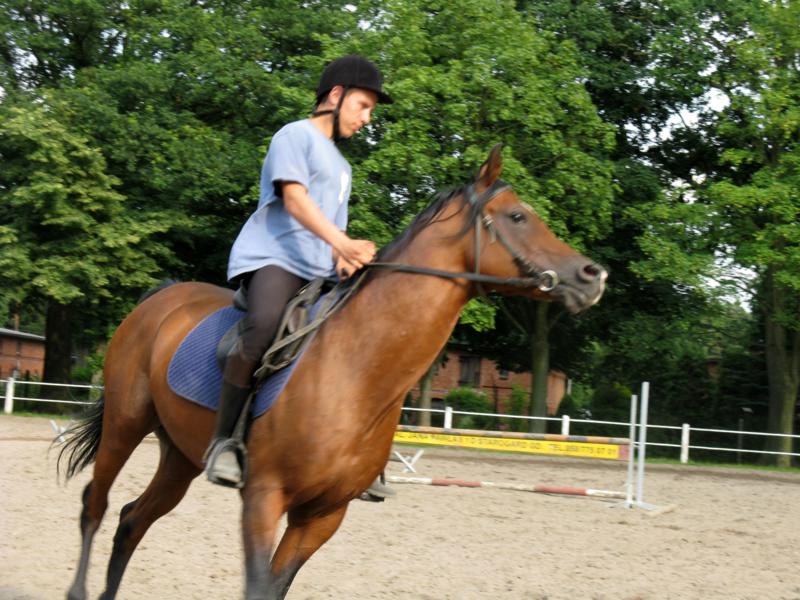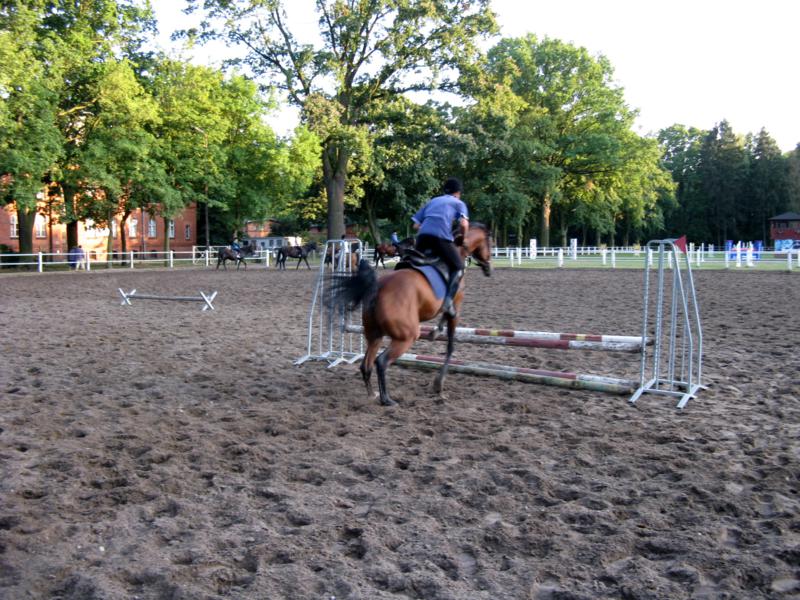 | | |
| --- | --- |
| 13 04 2011 by I. Paździerska | |